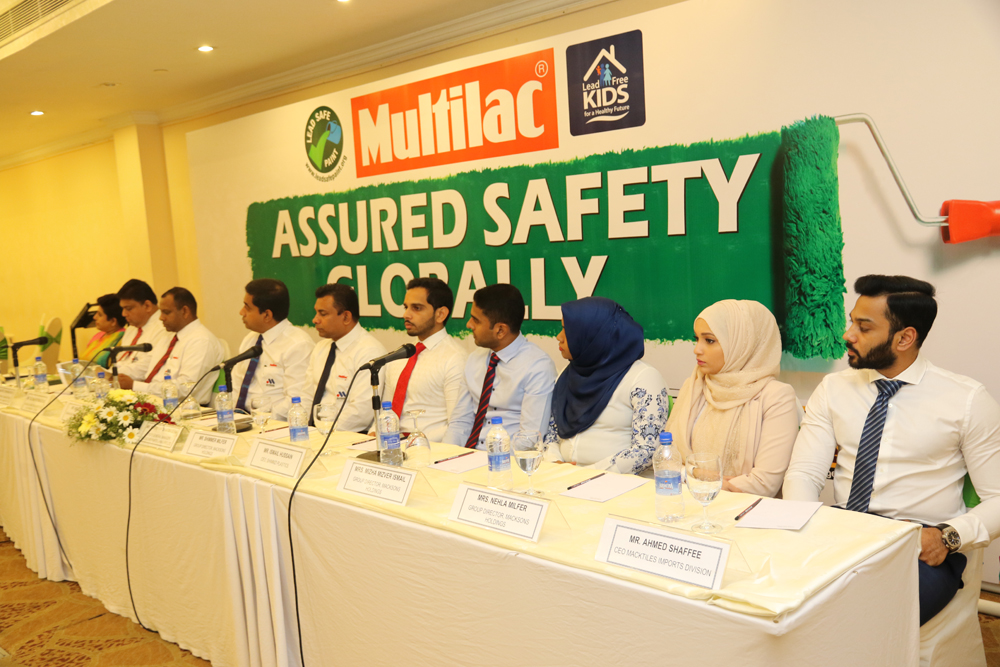 Multilac Certified as Lead Safe
Multilac receives Global recognition as a safe paint to use. Multilac the household name for paints in Sri Lanka has achieved the prestigious certificate from the U.S.A. in conformity of stringent safety standards for safe paints from IPEN America. Furthermore Multilac is one of the top three global paint companies to have achieved this recognition. This Global recognition will give Multilac, extensive strength in reaching Global markets and fortifying their local presence in future. In an era where the Sri Lankans are in a dilemma of living in fear psychosis as kidney disease, have reached epidemic levels and more often we hear about someone known to us diagnosed with cancer.
The Award is presented specifically because our outstanding brand of paint Multilac has been able to synthesize its Lead content maintaining the highest safety balance. The Sri Lankan standard for Lead safety is marked at 600 ppm for solvent based paint and 90 ppm for water based paint. But at Multilac we are able to maintain the Lead presence below 90 ppm for our entire product range, which is the international standard for Lead safety. Furthermore more than 70% of our products did not have any trace of LEAD.
This is particularly important because there is widely accepted view that the Lead content of Paint tends to have adverse affects on humans. The general belief is that the leads will affect children and pregnant mothers-especially. We have been able to eliminate this threat and produce variety of paint that is unquestionably consumer- friendly.
Multilac has taken this initiative so that it will be an example for every Industrialist or an entrepreneur in whatever the sector they are in, and if they are serving to the consumers to go an extra mile to confirm beyond the set standards locally and to reach highest standards globally. We are living in an era where the Health and Safety to our countrymen are compromised for profiteering by giant suppliers to provide who use countries like ours as there research platform.
Today Multilac has taken this step forward in our National interest as a truly 100% Sri Lankan brand entity and a Sri Lankan heritage brand. Multilac lived its 3 decades in Sri Lanka by succeeding not only as an accepted brand but also have taken Sri Lankan pride overseas as Sri Lanka's largest paint exporter. We are proud today as a Sri Lankan Heritage brand and we have been able to fulfill the aspirations of the Consumer, in terms of Quality, reliability, affordability and Safety. The countries where we export namely India, Maldives, Oman, Saudi Arabia, Australia, Seychelles, Vietnam ,Malaysia, Madagascar, Pakistan, Myanmar and Congo.
This industrial achievement extends well beyond the sector of paint. In the current international discourse, the emphasis on non-toxic products receives high priority. In consequence our successful effort is a praiseworthy industrial initiative. We have been able to earn such impressive adoration because of the continued trust and the faith; consumers have placed on our organization over a period spanning 35 years. We have been able to scale this height, after winning, a series of honors over the years, leading to the present highly noteworthy moment. Among the Prizes and Awards we have been able to acquire on our way to this unique Certification are ISO-9001, SLS, the prestigious Presidential award for export excellence, CIOB Green Mark and Green label award.
The certification titled Lead Safe Paint, that we have been able to win, also represents our contribution towards the collective national development effort. We are proud to state this entirely because we were encouraged to keep on refining our product, with the intention of heightening National industrial creativity. All our consumers can share our high sense of achievement as their patronizing of our product provided us with the incentive to move towards greater and greater victories.