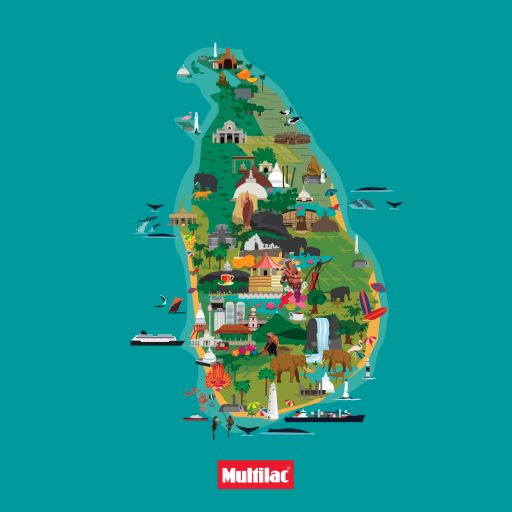 Colours of Ceylon
Sri Lanka is a vibrant eco-system made up of a variety of cultures, all living together in an island paradise comprising of a rich historical blend of kings and colonies. Remnants of art, architecture and culture are still around us today continuing to inspire new contemporary artists and architects alike. Sri Lanka is also the birth place of Tropical Modernism, inspired by the world-renowned architect Geoffery Bawa, whose style incorporated a blend of open spaces, nature and subtle colours synchronizing in perfect harmony.
Although a small island, this rich blend of diversification has formed different styles and unique communities spread across our colourful Nation.
Urban Living
In the hustle and bustle of Colombo, we see a variety of light colours blended perfectly, showcasing our modern lifestyle. Offices and homes alike tend to lean towards these lighter shades simply because of the tropical weather in Sri Lanka. During summer months, temperatures can rise up to 40-45 degrees, and lighter colours such as gray, white, light blue, light beige, light yellow provide a cooling effect on spaces. These colours are also a signature mix of contemporary living in a fast-moving urban landscape.
Hill Country

As we travel inwards up-country towards the lush tea plantations and scenic hill-side, we notice the change in not just colours but architecture as well. Most buildings still retain their colonial-era style architecture and early Briton colour schemes. Using light shades of brick red, yellowish green, light brown and turquoise on the outside to blend beautifully with the lush flowery gardens that cover the countryside. Darker shades are used inside mainly to retain heat within spaces and blend with the antique wooden interiors. At a glance, your senses might deceive you, as you might think you're no longer in Sri Lanka but in a cottage shire along the British countryside.
Costal Lovin'
Moving towards the sunny coastline which is a tourist haven all year around. Stretched along the Galle Road are smaller shops, eateries and small communal eco-systems that comprise of a blend of tropical colours representing the beach paradise that it is. Small and large murals made to catch the eye of wondering tourists, are a common sight alongside the shops and restaurants and are unique coastal décor in their own right. These murals identify businesses and are also used to showcase the south's unique attributes and tourist attractions such as turtle hatcheries, surfing schools, seafood restaurants etc.
Northbound
Once ravaged by war, the north has come a long way in defining their unique identity and style. Using almost all colors available at their disposal to bring their communities to life, it is truly a sight to behold. Inspired by "TamilNadu" colours; orange, yellow, golden brown & red. Colour represents one's status and standing in a community, as the North is also home to some of the most colourful and famous kovils in the island, color represents sacred meaning to its people and community.
In conclusion, Sri Lanka is full of colourful spirited people with a unique identity and lifestyle, from the food we eat to the spaces we call home, colour ravages our senses and brings us hope and joy.
We understand the importance of happiness that lasts, which is why each bucket of Multilac paint is made with not just the highest level of safety standards in mind being IPEN Lead Safe certified, but also formulated to last the test of time. Bringing you ever lasting joy with each stroke of the brush to your life canvas.