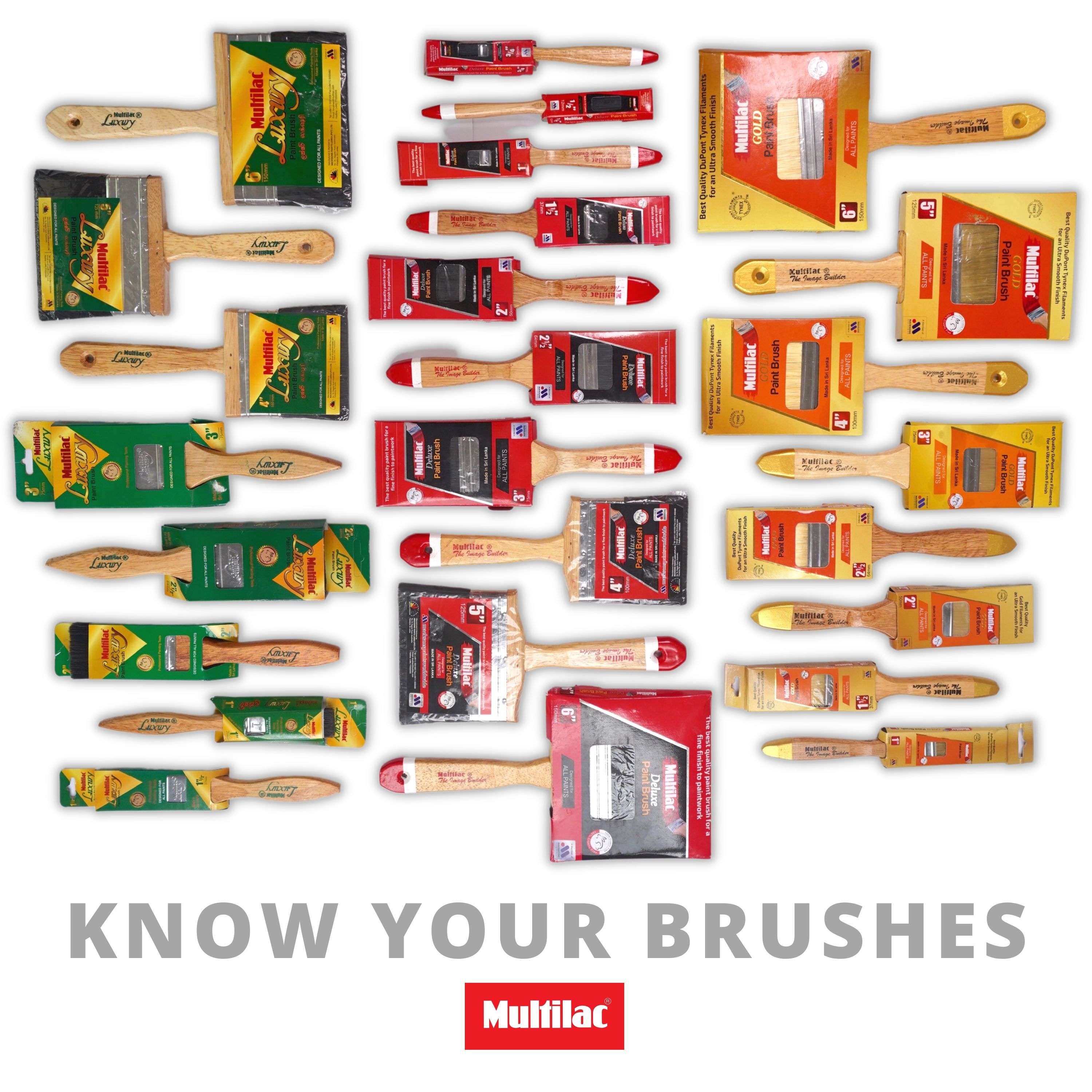 Know Your Brushes
Multilac has been a household name for over 40 years in Sri Lanka, mostly known for their export quality paint that is made using the high safety standards in the industry, creating beautiful and long-lasting safe spaces. Complementing their quality paint, Multilac, in recent times, has developed its very own range of premium quality paint brushes
Deluxe Range
These brushes are made from treated wooden handles and comes with no expiry date on usage as long as they are maintained with care (for more information, visit our How to Paint series on brush care). The brush is made from black synthetic filament high in volume which picks up paint with ease and offers more coverage in comparison to standard brushes. This brush is used by industry professionals and is celebrated for its quality and durability.
Available Sizes : 1/2, 3/4, 1, 1 1/2, 2, 2 1/2, 3, 4, 5, 6 inches
Luxury Range
Don't let the name scare you away; this brush range is affordable and commonly used in households. Although low in filament volume and handle thickness in comparison to the Deluxe Range brushes, this brush still delivers quality strokes and a good range of coverage. This brush also does not come with an expiry date as long as the brush is cared for during and after every use.
Available Sizes: 1, 1 1/2, 2, 21/2, 3, 4, 5, 6 inches
Gold Range
This brush range is the most expensive of the three and mainly used for water-based paints. Comprised of the same filament volume and handle thickness as the deluxe range, this brush is ideally used for painting on wooden surfaces, delivering a smooth application and finish.
Available Sizes: 1, 1 1/2, 2, 21/2, 3, 4, 5, 6 inches
Brush Quality:
All brushes are meticulously crafted with state-of-the-art Italian machinery, the first of its kind in Sri Lanka using stainless steel ferules and the finest quality rubber wooden handles. Multilac brushes are also created with more filaments, ensuring great paint pickup for smooth application on any surface. Attention to detail is key in the manufacturing process, delivering quality that surpasses any other brush in the industry, resulting in an easy paint delivery and a smooth finish on a variety of surfaces.
The end result is a master crafted product with a longer lifespan, providing unyielding versatility to the painter. Gone are the days when you buy a paint brush for every paint job; simply get your hands on a Multilac Deluxe, Luxury or Gold range brush and get started with your lifetime brush today.