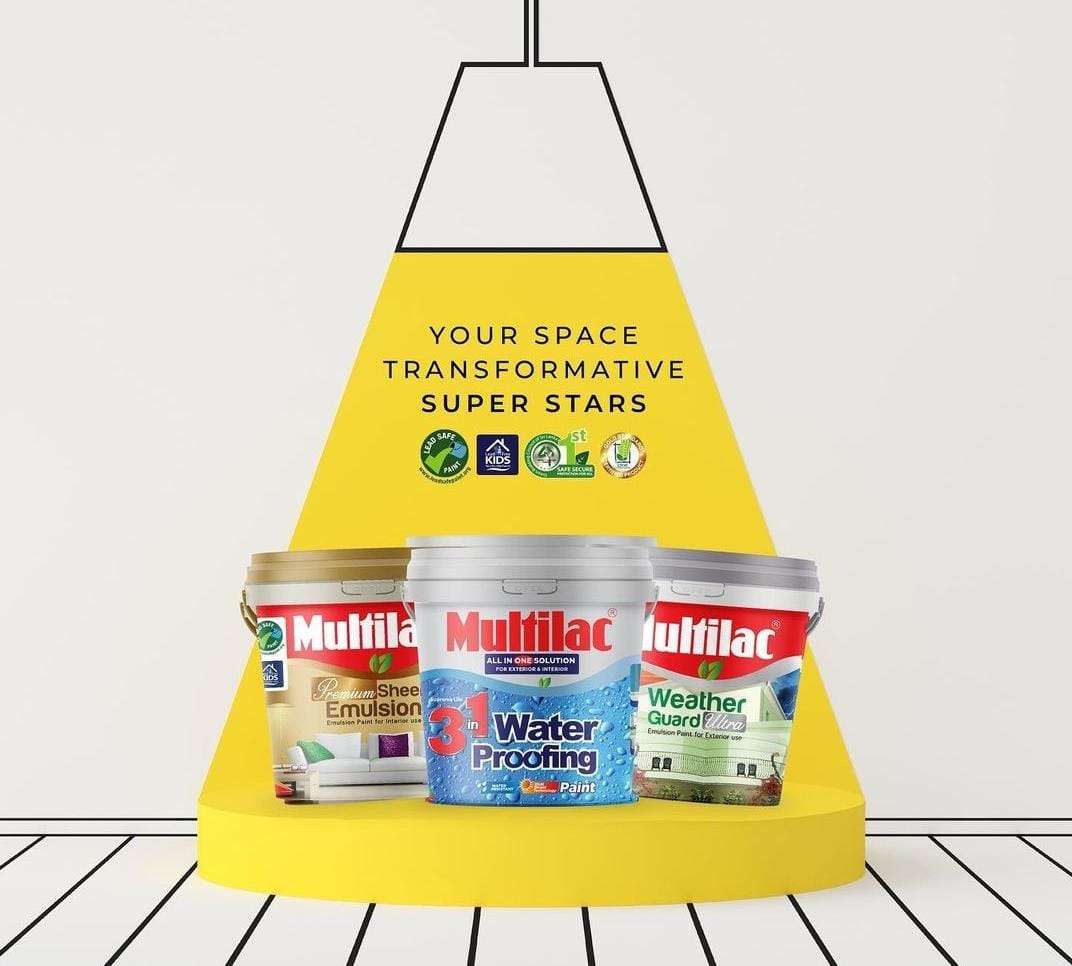 Know Your Paint: Emulsion
Know Your Paint: Emulsion
Emulsion is a water-based paint most commonly used on walls and ceilings; its quick drying ability sets it apart from other paints in the market. Emulsion also provides you with an impressive application when used with either a brush or paint roller. This is the go-to choice for any household or commercial space looking for an amazing transformation.
Let's look at Multilac's range of emulsion paints and the difference between them along with the key benefits each one of them provide.
Multilac Premium Emulsion
Used by millions, locally and globally for household and commercial use, this paint gives your walls a premium finish while keeping it protected from a wide range of environmental hazards. Multilac Premium Sheen is formulated with Special Lamishield Technology and contains low volatile organic compounds ensuring your space is safe, clean and beautiful.
Multilac 3 in 1 Waterproofing Paint
This paint provides your walls with the best triple protection solution. With its unique ability to repel water and also protect against harmful UV rays by reducing the surface temperature inside a home by 5°C. Multilac 3 in 1 has the ability to cover hairline cracks thanks to its flexibility trait and non-sticky application, keeping your walls clean by not allowing dirt particles to lay rest on your newly painted surfaces.
Multilac Platinum Omnis Royal Silk/ Matt
If you're looking for a paint with an amazing application and interior protection, look no further. This water based paint provides the ultimate dual combination effect. Protecting your walls from bacteria and fungi, elevating your walls hygiene standards. Once applied, your walls can easily be cleaned due to its unique washability and is the parents' choice when it comes to household premium paints.
Shimmer
A premium quality pearl finish paint with the ability to transform your space into something truly unique. Unmatched in offering an "awe" effect after application.
Multilac Platinum Magic Special Effects Emulsion
A high quality, acrylic and co-polymer-based emulsion for interior application, giving you the ability to mix and match your favorite colours and create a true masterpiece of your own creation. This paint has the ability to be painted on any surface, giving you ultimate flexibility when unleashing your creativity.
Multilac Luxury
Formulated for exterior walls keeping them free algae and fungus growth while keeping your surfaces crack and peel free. This emulsion paint can be applied on any surface, this is the preferred choice by any expert mason for all exterior painting applications.
To make things even better all Multilac paints are IPEN USA certified, the only paint manufacturer in Sri Lanka to hold such a prestigious certification, ensuring your spaces are maintained with the highest safety standards.